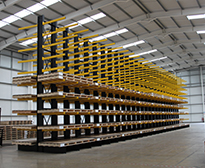 Cantilever Racking
Cantilever Racking is a system specifically designed for the safe and organized storage of long and heavy loads. Wickens cantilever systems are an effective and efficient alternative to conventional lighter weight storage solutions.
Robust designs using standard structural steel sections, suitable for the most arduous of environments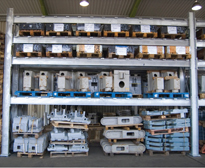 Extra Heavy Duty Racking
A unique storage product with unlimited capabilities
Supporting far heavier weights than with conventional pallet racking of up to 20 tons over an eight metre span.
Clear entry spans of up to 12 metres.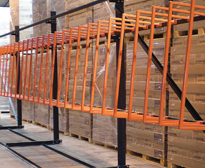 Vertical Racking
Ideal for storing long items of varying lengths vertically.
Easy access for hand picking of product.
Minimal floor space required.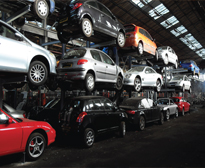 Scrap Car Storage
Scrap Car storage up to 4 high in salvage yards.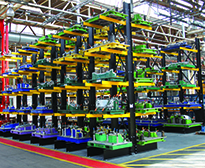 Jig & Tool Storage
Jig and Fixture Storage for 1st Tier Automotive Pressings supplier.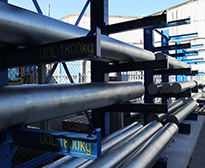 Bar & Tube Storage
Wickens Cantilever Racks offer an ideal solution for storing long and bulky products, such as bar and tube. They offer unhindered access to the products as there are no front uprights experienced in other styles of racking.
Bar & Tube Racking Systems will give benefits such as:
Increasing vertical storage capacity
Allowing access to selective stock
Speeding up materials handling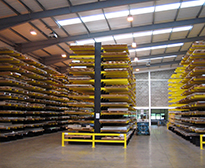 Sheet Metal Storage
Sheet metal is a very difficult material to handle. It is bulky, heavy, slippery, with sharp corners and difficult to grip. Appropriate storage and handling of sheet metal will eliminate damage to stock and will help to meet health and safety requirements.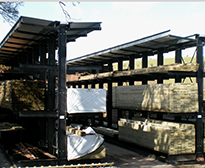 Timber Storage
Wickens cantilever racking system is an ideal timber storage solution as they:
Reduce timber footprint on site
Limit chances of timber getting damaged
Enable stock rotation
Allow access to individual timber packs
Save timber stored on the floor from moisture damage
Allow airing of timber
As a result, reduce stock waste