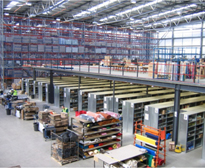 ME250 Mezzanine Floors
ME250 mezzanine flooring allows for a cost efficient creation of extra floor space in existing buildings. Beautiful in simplicity the uprights and beams of the light structured ME250 can build up to are some of the largest heavy duty floors. With a standard load up to 1000 kg/m2 and a span up to 10 meters, the ME250 is multifunctional for almost all users.
Completed with a high quality stairway, strong railing and 3 different kinds of pallet gates a ME250 floor can be an economical solution when compared to concrete construction. ME250 Mezzanine floor is also totally demountable and reusable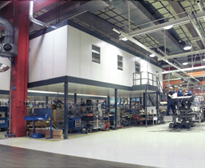 Partition Cassette900
Cassette900 is a pre-manufactured flexible partition system made with steel. Cassette900 is primarily used within industry to improve the working environment for employees.
Partition system Cassette900 is a modular system based on pre-manufactured steel cassettes for walls and ceiling. The cassettes are filled with noise reducing mineral wool. The partition system has within its range window cassettes made from aluminum profiles and supplied with hardened glass (4+4 mm), helping to fulfill the requirement for (there is a word missing here) and light admission.