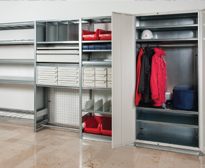 Single Tier Shelving
HI-280 shelving system uses a clever construction method. Its design is based on a minimum number of components; the basis of the system is uprights and shelves made from high grade pre-galvanized steel. The variety of applications is endless, HI-280 can be built as a traditional shelving system or as a high rise installation with floors between levels.
Suitable for stand-alone and manually served picking and storage areas to large fully automated central stores, the HI-280 shelving system is the most flexible and versatile storage system for small part handling.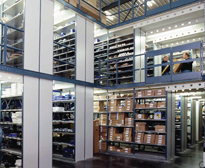 Multi-Tier Shelving
HI280 multi-tier shelving, with an interposed mezzanine, is a construction of shelving built into two or more levels. The bottom shelving is the support for the mezzanine floor. The uprights are heavy duty and dimensioned in order to carry the loads from the floor above. Shelving built as multi-tier installations is often used in larger warehouses for spare parts or where the storage of many articles.
Sprinkler systems and lighting can easily be incorporated into the structure.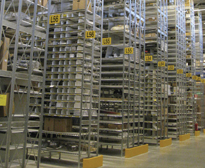 High Rise Shelving
Narrow aisle and High rise shelving systems are common in 24–7 warehouses, with easy access for man up trucks, or handling by automatic cranes.
A narrow aisle storage installation offers a unique optimization of storage space.
High space and floor utilization
Lower facility investment
Ergonomic picking
Increases picking rates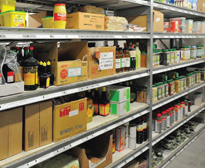 Medium Span Shelving
HI280 Medium Span shelving (Sometimes known as long span shelving) is often used for creating multiple pick locations and is suitable for larger or heavier products which are preferably stored on chipboard shelves. For this purpose Dexion developed the HI280 medium span shelving option.
Many parts and accessories from the standard HI280 shelving range are also suitable for HI280 medium span. This makes these 2 shelving systems very compatible and they can easily be combined with each other.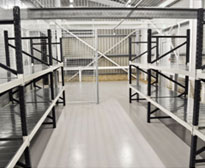 Long Span Shelving
The Long span shelving system allows for the easy adjustment of storage heights and configurations as your requirements change.
The Long span system incorporates a wide range of frame and beam sizes making it simple to customize an installation that meets your exact needs. Medium and long span bays can be combined in the same rack for the efficient storage of a wide range of different items. A bolt free lock-in system ensures that once the support beams have been located, they remain in position improving safety for operatives accessing the installation.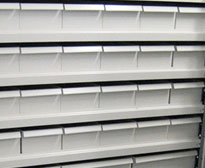 Ship Shelves & Cabinets
Shelving system HI280 – ship shelving – is a special storage area where the standard concept, shelving system HI280, has been further developed to fit into marine use.
The shelving system HI280 for marine use has been developed in order to work as a safe and secure storage system in marine environments. This has resulted in design of important accessories in order to avoid stored items to "move around" during rough conditions. The shelving system HI280 has been reinforced and equipped with special front-secure-beams fixed in front of the shelves preventing goods from falling out. The shelving system is mounted, joint, into the fixtures of the ship for an optimal security. Ship shelving also exists in a design with closed, lockable doors for safe storage.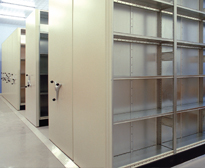 Mobile Shelving System
Kasten Mobile shelving is perfect solution for efficient archiving and storing. Kasten Mobile Shelving can even double the amount of shelf meters in floor area available compared with fixed shelving. Mobile units move smoothly on floor rails. Working aisle can be easily opened by turning a crank.
The drive system ensures effortless movement of the mobile system, regardless of the content or the number of racks. Various locking devices help protect the contents of the mobile units from unauthorized access.