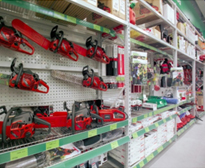 Shop Fittings
Optim Shop is a versatile shop fitting system for many purposes. Its solid structure allows for displays of large volumes goods and merchandise. Optim shop fitting is adaptable and all-equipped – from a corner shop to a supermarket. It is suitable to agricultural and hardware stores, garden stores, grocery stores, discount stores and specialty shops.
Optim shop fitting consists of frames, horizontal long span beams and shelves as well as wide range of accessories which simplify the display of even the most cumbersome products. In DIY and hardware stores the size of products differs from small items to large machinery. Highly flexible Optim shop fittings accommodate effortlessly all hardware products, which can also be protected with wire mesh doors. Products can be hung, put on a shelf or into a basket, stacked, stood up, and kept in deep wire basket shelves, stored on pallets, hung on rails, displayed individually or in a group. Big or small products, shelves can always be adjusted to suit the dimensions and requirements.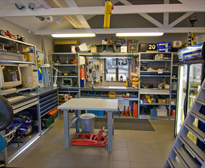 Garage & Workshop Products
Within this product group for workshop storage you will find storage solutions for small or bulky items. From special storage for tire to storage machines for spare parts or components which require secure or dust free storage.
This product range covers "general storage", the storing of tools as well as components and fittings of different kinds for garages and workshops. This means that all kinds of different storing solutions can occur in a small workshop; from palletized goods or the storage of long goods, to valuable tools & instruments or small parts in plastic bins within the shelving systems.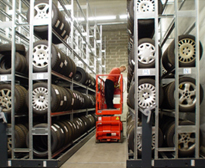 Tire Racking
Optimal storage of tires is about maximizing the space available without harming the quality of the tire and also making it easy to handle the tires.
We can tailor any solutions for you, from plain shelving systems to large warehouse solutions. A solution for your tires should be flexible and tailored to your premises to maximize the space available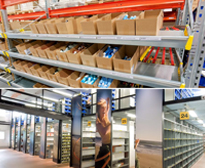 Medical & Health Care
Whether you are developing, manufacturing, or distributing & selling pharmaceutical based products, the conditions these goods are stored in vary and need to follow strict standards.
Various requirements for safety, traceability, hygiene, and temperature often result in a demand for custom made storage solutions. Dexion's wide range of adaptable products can provide solutions that meet the strict requirements for safe and correct storage within the Pharmaceutical Industry.
Some of the challenges faced by Pharmaceutical customers include:
Temperature requirements to maintain the quality of the products
100% traceability to follow strict guidelines on monitoring expiry dates
Maintaining a sterile environment
Stocking a wide range of products
Large amount of storage capacity needed in a small area
Security restricted storage with control over access