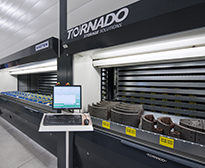 Lift System (TORNADO)
Tornado storage machine is rapid, energy-efficient and silent automated storage and handling system, which operates on the "goods to person" principle. It is easy to tailor to each customer's needs.
Tornado Lift machine offers safe and secure storage for storing and handling your small items in your warehouse or shop. The intelligent engine of the system attempts to place active trays close to the retrieval point. This makes the Tornado Lift machine especially useful for seasonal products. Tornado has password-protected access levels for added security.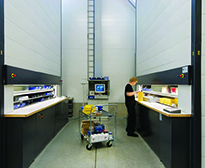 Vertical Carousel (PATERNOSTER)
Paternoster is an excellent solution for optimal reduction of picking times. Particularly great reduction in picking time is seen with batch picking, offering more rapid turnaround. The rotating automated storage solution saves floor space and offers efficient height-optimized storage.
Retrieval points can be set up on many floors.
Paternoster is recommended for systems storing many different types of goods. It offers rapid processing and minimization of picking errors. Paternoster always takes the shortest route to the operator.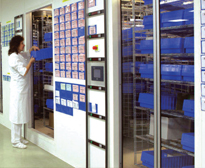 Horizontal Carousel (HOCA)
Horizontal carousel is an excellent choice for large spaces or low buildings. The horizontal storage system can accommodate large quantities of bulky goods, reducing picking times significantly.
The system brings goods to the operator quickly and ergonomically. Productivity can be boosted even further by connecting several machines to a single retrieval point. This means that the operator can pick from one carousel while other ones are rotating to be ready for next pick.
Carousels can be equipped with pick-to-light systems that make batch-picking very easy and fast for the operator.